Former Manchester United captain Rio Ferdinand says education and a centralised message is the only way to defeat racism permanently.
News
Modified 20 Jun 2020, 18:04 IST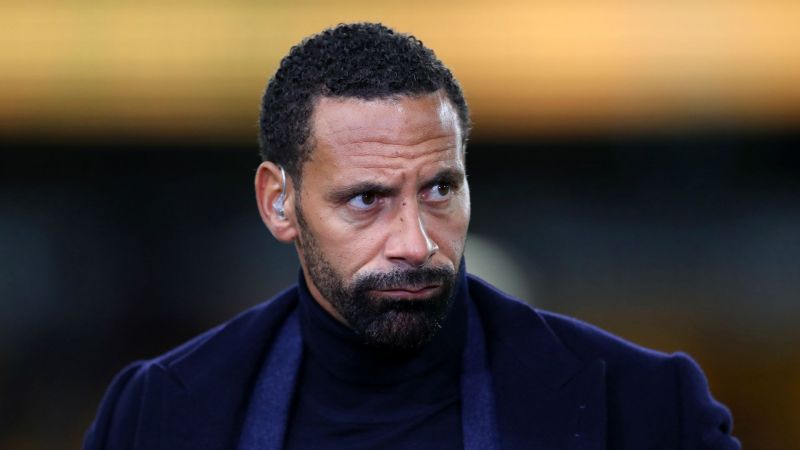 Rio Ferdinand praised players such as Raheem Sterling and Marcus Rashford for driving social change but insisted more must be done to combat racism.
Sterling has been vocal on the issue of racism, particularly within English football, and the importance of greater representation for BAME communities within leadership roles.
Rashford won widespread praise for using his own social media platforms to drive a campaign forcing the United Kingdom government to make meal vouchers available to schoolchildren outside of term time.
Liverpool's Trent Alexander-Arnold has also stressed the need for greater equality within all levels of football, and former Manchester United captain Ferdinand has been impressed with their efforts.
However, the ex-England defender believes education and a centralised message is the only long-term solution to the problem of racism.
"The difference between their generation and our generation is they have a platform to speak. They have a platform and they know how to use it. Marcus is a great example of that, Trent is coming up behind to do that as well, and Raheem," he said on BT Sport.
Love this @NathanWyburnArt
Thank you so much  pic.twitter.com/WvYbge630v

— Marcus Rashford (@MarcusRashford) June 17, 2020
"But the problem is it's not just these guys and the players who are going to make change. There needs to be a movement. It can't just be campaigns. We've seen far too often different charities, different organisations, doing fly-by campaigns – yes, their intentions are great, but they're not sustained, they don't make change over a long period of time.
"I believe education has to be the real foundation of that. It needs to be in the curriculum. These players, yes they have to be at the forefront, but next to them needs to be the broadcasters, the Premier League, the clubs, pushing out the same message so the next generation of young people aren't confused with each organisation having their own message here, their own message there.
"Every organisation will be ticking boxes and saying, 'we've done our bit'. But doing it on your own isn't good enough. It has to be a centralised unit they're working from. 
"A young kid is getting a message from that broadcaster, a Premier League team there, it all adds to the confusion. There are so many people who say, 'It's so much better than it was before, it's not as bad as it used to be'. That's not good enough."
#TimeForChange pic.twitter.com/6hieFrFnbB

— Raheem Sterling (@sterling7) June 16, 2020
Addressing fellow BT presenter Jake Humphrey, Ferdinand said: "You look at it as individuals. Is it better now? Are you getting stopped by police on a daily basis? Are you not being allowed into certain shops on a daily basis? Are you crossing the road because you're in fear of someone else feeling a little bit in fear of their own safety because of the colour of your skin? 
"All of those things are because of the colour of someone's skin. It leads me down the road to ask you the question: would you swap places with someone who is black, in today's society?"
Humphrey replied: "My honest answer would be 'No' because I know that my life would be harder, I know that if I was in America I'd be more likely to lose my life, I know that if I was here [in England] walking down the street, I'd be subject to racist abuse."
Ferdinand continued: "So when people say 'it's better than it was before', it isn't. It might not be as glaring, it might be more subconscious, the racism, but it's still racism.
"People are feeling marginalised. People are saying 'All Lives Matter' – I understand that, but black lives matter here and now because they feel marginalised. We feel opportunities aren't the same.
"So, there is a problem to be addressed, and I'm so happy that now these young players have got the strength, they feel they've got the support, the momentum at the moment, but this has to continue.
"I think there are going to be leaders in this and I think Raheem's one of them. But I think it has to be clear, that message. These players can't feel pressured into coming out and speaking; they need to be fully educated and then have that passion and desire to come out because the power of social media today means you can create movements and you can create change.
"Marcus Rashford is a fine example of that for these players going forward: if you've got a message and you push and you can execute properly, you can create change at a government level.
"If you're a young kid, he goes him and one of his parents or both or his uncle of friend of the family is very ignorant or racist, that kid isn't equipped with the education to go back to the parent and say 'woah, that isn't right'.
"But if you spoke to that kid about his team he supports and that ignorance was coming from a place of 'your team's rubbish' or 'the computer game you're on is not right', he would back himself to have a debate, a discussion, an argument with that family member to say 'no, actually, this is how it is'. It needs to be the same from the perspective of discrimination.
"When racism is spoken about, a lot of people think it's black people who have to march. I went to a march; it was a very mixed demographic. That was one of the most refreshing things to see.
"There are white people and people of different colours who think 'this is wrong and I'm going to stand side by side with my fellow black people and say this isn't right'. That's where football is as well.
"You need prominent players – Jordan Henderson has taken a big role and put himself out there – others have to follow that and stand side by side with their fellow pros to make sure there is change.
"I've been involved in many a moment that are here today, gone tomorrow. This feels like there's some sort of change and momentum coming."
Published 20 Jun 2020, 18:04 IST
Fetching more content…